Top Ten: How Recorded Classes Benefit You
Homeschool Connections offers access to online Catholic homeschooling courses under two formats: synchronous and asynchronous. Synchronous and asynchronous are just fancy terms for recorded and live classes. A live class is said to be synchronous because the instruction and the student engagement happen in synchronicity—at the same time (click here for Homeschool Connections' synchronous courses). Asynchronous courses rely on a model where the student engagement comes after the teacher's instruction. Students are watching recordings of instruction that happened before they ever signed up for the class. Since the instruction and student engagement happens at different times, this is called an asynchronous course (click here for information on Homeschool Connections' asynchronous courses).
While live (synchronous) classes will always be in demand, many Catholic homeschool families make ample use of our recorded (asynchronous) courses. Let's face it, homeschooling life can be busy, especially if you have a larger family. Your day needs all the flexibility you can get. Recorded, self-paced courses provide you this flexibility, empowering your homeschooling schedule to work for you instead of feeling like a strict regimen you are locked in to. In this post, we are going to highlight the ten ways Homeschool Connections' recorded online classes can benefit you!
1. Your Children Aren't the Only Ones Who Benefit
With a recorded, independent-learning course, the student is not the only one who benefits. Parents can watch the classes together with their children at their leisure to re-educate themselves. Siblings can also sit in and watch. Some families binge-watch classes to learn together. Recorded classes offer stellar opportunities for collaborative education with the whole family. Plug the computer into the TV and go to it!

2. Parents Can Use Classes to Prepare to Teach Their Own Children
Even if your child is not taking any recorded courses, parents can use the Homeschool Connections repository of recorded classes as source material from which to prepare their own instruction. Are you trying to work through chemistry with your high schooler? Bone up on chemistry essentials with Inshal Chenet's Basic Chemistry. Need to teach American history to middle schoolers at your co-op? Phillip Campbell's two-part American History course can help you plan your instruction.
3. Students Can Move At Their Own Pace
One of the greatest benefits of using prerecorded Catholic homeschooling classes is the students go at their own pace. Taking an asynchronous course frees students from the necessity of following the pace of a live course. They go slower (stretch a 12 session course over 18 weeks) or faster (finishing a semester class in six weeks) as it suits them.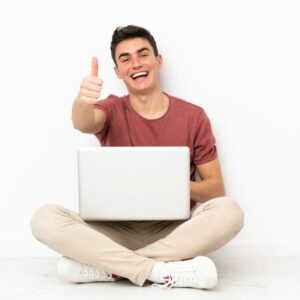 4. Classes Are Available 24/7. Watch On Your Own Time
Because recorded classes are available 24/7, students can also pace out individual classes—no need to sit through 55 minutes straight. If you're hungry, pause and get a snack. Gotta go to the dance? Just shut it off and come back later. Just not feeling it one day? It's okay; you can always pick up the course again the next day.  Super convenient.
5. You Don't Even Have To Be A Homeschooler
Our online Catholic homeschooling classes can be used as resources for non-homeschooled students looking to supplement their existing coursework. For example, public schoolers can watch them to fill out some of the Catholic-specific content that is usually omitted in public education. Catholic school students may also want to use them as study resources.
6. You Get A Big Bang For The Buck
Let's just look at the price: Homeschool Connections unlimited access is only $34.97 a month (or $360 per year). This gives you full access to the entire Homeschool Connections recorded catalog; that's hundreds of classes! Some online schools charge as much as $360 for a single course. Recorded courses give you an excellent return on investment!
7. Great Instructors Who Love Their Subject Matter
One of the greatest assets of Homeschool Connections is our team of dedicated instructors. Our instructors absolutely love their subject matter. Their passion is contagious! It's been said that education is not so much about passing on content as it is about lighting a fire: the teacher uses his or her passion to ignite the interest of their students. That is the experience your students get when they work with our gifted instructors!
8. Great Instructors Who Love Their Catholic Faith
Besides being devoted to their subject matter, our instructors are all passionate about their Catholic faith! Homeschool Connections is not just about online classes, but Catholic online classes. Our online curriculum offerings put a whole world of Catholic online homeschooling at your fingertips: theology, apologetics, Catholic history, literature, philosophy, and more! If you are Catholic homeschooling on line, Homeschool Connections unlimited access courses are the place you want to be.
9. Keep The Service For As Long Or As Little As You Need It
At only $34.97 a month, nothing beats Homeschool Connections' unlimited access for the price. But it gets even better: you can keep the service for as long or little as you need it. There are no contracts and no long-term obligations. If your plans change, you can cancel immediately. Unlimited access is all about flexibility.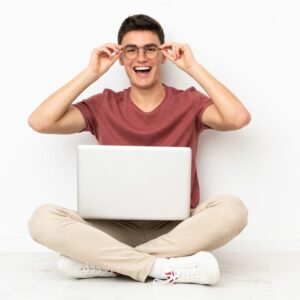 10. Instructor Access Grading Service
If you want the flexibility of an asynchronous course but the accountability of a live class, many Homeschool Connections courses have instructor access. This means that you can pay the instructor a fee to grade your student's work and give feedback on their progress. This is a great option for students who thrive from a bit of external accountability.
Conclusion
As you can see, there are many ways Homeschool Connections recorded online courses can work for you and your family. I'm sure there's more we could say, though. What about you? How have recorded courses benefitted your family? Leave your stories in the comments!