Book Review: The Hound of the Lord by Eleanor Nicholson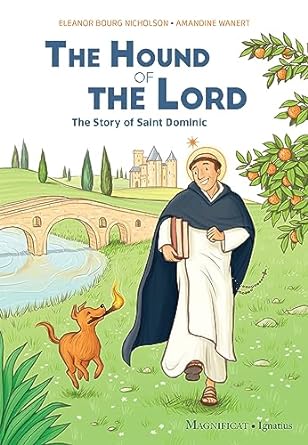 St. Dominic Guzman is one of the Catholic Church's greatest luminaries of faith. Born in 1171 in Spain, St. Dominic lived at the cusp of the 13th century, hailed by many as the peak Church's intellectual and cultural apex. As founder of the Order of Preachers (Dominicans), he ranks with St. Benedict, St. Francis, and St. Ignatius Loyola as one of the great religious founders of Christendom. A host of saints and popes have flowed from the ranks of the Dominicans; the order has also given the Church some of her most notable theologians as the Dominicans dominated the chairs of Catholic universities for centuries.
It is, therefore, sad that the order's illustrious founder, St. Dominic, is not better known. While most Catholics are certainly aware of St. Dominic, the details of his life are fuzzy for many. He suffers from being overshadowed by his more famous contemporary, St. Francis of Assisi. Yet even the great St. Francis revered St. Dominic as a man of immense holiness and influence. Should not we, too, learn about this marvelous saint whom St. Francis of Assisi venerated?
Thankfully, popular Catholic author Eleanor Nicholson has given us a charming children's biography of St. Dominic entitled The Hound of the Lord: The Story of Saint Dominic. Published by Magnificat and Ignatius Press, The Hound of the Lord offers us a biography of the great Spanish saint told from the perspective of his dog, Torch. The book is enriched with charming illustrations by popular French illustrator Amandine Wanert.

The Hound of the Lord covers the entire life of the saint, from the dreams his mother had before his birth to his death in 1221 and subsequent canonization. It hits all the major beats of his life: his youth, discernment of vocation, preaching to the Cathars, promotion of the Rosary, founding of the Dominicans, the General Chapters of the Order, his friendship with St. Francis, and his death and elevation to sainthood. The story's narrator is the dog, Torch, who accompanies Dominic throughout his many adventures. The book is not so much a historical fiction story about St. Dominic as a straight biography using Torch as a narrative device to tell the story.
One of the strengths of this book is how Nicholson doesn't just focus on St. Dominic's accomplishments but highlights the virtues he practiced that enabled him to do what he did. His charity, zeal for souls, perseverance, and love of God are all stressed. This is good because the danger with children's hagiography is that we sometimes focus too much on the miracles to make the story exciting while forgetting to stress the virtuous and holy life that underlies such wondrous deeds.
Nicholson also presents St. Dominic as a man filled with the joy of the Lord. I always appreciate this sort of thing, as saints can sometimes appear "flat" and one-dimensional, ethereal images on holy cards and stained glass windows that are idealized to the point we no longer identify with them. In The Hound of the Lord, we see an animated, joyful St. Dominic motivated by a deep love for Jesus and radiating the happiness of a healthy spiritual life. The illustrations of Amandine Wanert exemplify this aspect of the book even more so.
One good thing is that it's a chapter book, but it's not very long; I was able to read it to my kids in two sittings. Its brevity and reasonable price tag make it ideal to tag on as a supplemental resource in a homeschool unit about medieval saints or mendicant orders.
In terms of critiques, narrating through the voice of a dog was brilliant, but I wish the dog were more of a character. Torch doesn't have much to do except observe, and at times, we forget that it is a dog speaking to us as the narration slips back into a third-person omniscient. It would have been cool if Torch had more agency in the story instead of being merely a narrative device. Obviously, we are not supposed to think too hard about it. After all, the dog is alive to narrate Dominic's birth in 1171 and is still kicking in 1234 when he discusses Dominic's canonization, making Torch a ripe 63 years old.
The language of the book was a bit more elevated than I was expecting, judging by the artwork. I read this book to my 7- and 12-year olds, and while my 12-year old understood it just fine, some of the vocabulary was over the head of my 7-year old (it discusses contemplation, the trivium & quadrivium, philosophy, Albigensianism, etc.). This isn't necessarily bad; I have always advocated for children to be exposed to writing above their level so that they can stretch their brains a bit (see "The Benefits of Challenging Books"). But be aware that if you use this with a younger child, you will have to walk them through some vocabulary. Probably 9-11 years old is the age range where this can be read independently.
Overall, Eleanor Nicholson has given us a solid introduction to the life of St. Dominic, highlighting all his most important accomplishments and virtues. I hope she will do more mini-biographies, as these could easily be plugged into a homeschool curriculum with little fuss or planning.
You can get Eleanor Bourg Nicholson's The Hound of the Lord at Ignatius Press or on Amazon.
Disclosure: Mrs. Nicholson is a fellow instructor at Homeschool Connections. She teaches high school literature, specializing in the Victorian era.
*Contains affiliate links.