Catholic Black History Month and Sainthood
As part of Black History Month, I have been reading a good number of books about black saints. Today I review two of them for you: Saints of Africa by Vincent O'Malley and Black Catholics on the Road to Sainthood by Michael Heinlein, both published by Our Sunday Visitor.
(Make sure to see all of our Black History Month book reviews if you would like to create a Catholic homeschool unit study or add the topic to your regular homeschool studies.)
Saints of Africa by Vincent J. O'Malley, C.M. (Our Sunday Visitor, 2001)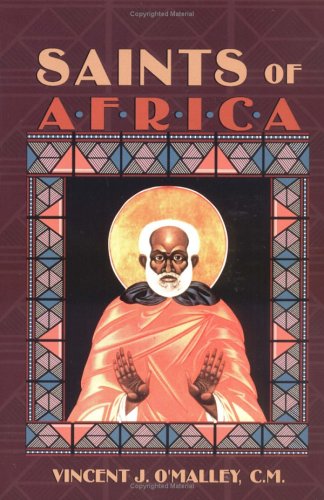 Vincent O'Malley's 2001 book Saints of Africa is a compendium of African saints arranged according to the liturgical calendar. It follows the familiar layout of other saint collections, such as Butler's Lives of the Saints: the entries are organized by month and day according to where each saint's feast day falls on the liturgical calendar. Each entry contains a biographical vignette about the saint, with most about two to three pages in length.

It should be pointed out that, in the context of this book, African does not mean black. It refers to anyone who was from Africa, and thus the collection also includes saints who were African but not black, such as St. Augustine of Hippo, who was Berber, as well as saints of Greek and Roman heritage who happened to live in Africa. Its focus is geographical, not ethnic, so someone looking for a book exclusively on black saints of Africa would be disappointed. However, I honestly think Fr. O'Malley's approach is the best possible way to handle the subject matter, given that the ethnic identities of many early African saints is uncertain.
For example, the famous St. Anthony of Egypt (d. 356). Anthony could have been white, the descendant of Greco-Roman colonists. Or he could have been a Copt (native Egyptian). He could likewise have been darker, a descendant of the black Nubian population of Upper Egypt. He could have been Semitic, related to the Nabataeans or Arabs. Ancient Roman Africa was an ethnically diverse place, making it difficult to speculate on the ethnic identities of historical figures. This makes a geographical focus the most convenient.
There are plenty of black saints covered as well. Saints Benedict the Moor, Charles Lwanga, Jospehine Bakhita, Bl. Isidore Bakanja, Bl. Victoria Rasomanarivo, and many more are treated in extensive detail. It also throws in certain black saints who were not from Africa but of African descent nonetheless, like St. Martin de Porres and Venerable Pierre Toussaint. I found the decision to include these saints arbitrary, but it did not detract from the book in any sense. The book is chronologically comprehensive: it includes saints from the earliest days of Christianity all the way up to the twentieth century martyrs.
One of the most helpful aspects of this book is that each chapter features a map of Africa identifying where each saint came from. This is very useful as many western readers are not intimately familiar with African geography, so it is nice to have a visual point of reference.
While it is more of a reference book and less a "read cover to cover" sort of text, I found it of great value. Saints of Africa is a wonderful resource to not only educate, but build appreciation for the remarkable sanctity that has come out of the world's second largest and second most populous continent.
Black Catholics on the Road to Sainthood, edited by Michael Heinlein (Our Sunday Visitor, 2021)
Michael Heinlein's collection Black Catholics on the Road to Sainthood has a much narrower scope than Saints of Africa. First, it deals with specifically black Catholics in the United States. And second, these are individuals who have not yet been canonized but have causes open.
Whereas Saints of Africa uses an encyclopedic style featuring entries for each saint, Black Catholics on the Road to Sainthood is structured a series of mini-biographies. Only six persons are covered: Ven. Pierre Toussaint, Ven. Henriette Delille, Ven. Augustus Tolton, Servant of God Mary Lange, Servant of God Julia Greeley, and Servant of God Thea Bowman.
Each biography is written by a different contributor, some lay persons, some clergy. This keeps the book fresh, as the writing style varies from chapter to chapter. Each biography contains a nice color illustration. The foreword by Archbishop José H. Gomez of Los Angeles reminds us that we need to know the story of these men and women not merely as an exercise in racial awareness, but as part of our shared American Catholic heritage. The Church is Catholic, that is it is universal, and its Catholicity is beautifully reflected in the panoply of beati the American Church has produced.
I found the level of detail in Black Catholics on the Road to Sainthood just right—it gives enough information to get you acquainted with the characters, but leaves you wanting to learn more. I walked away from this book with a much greater appreciation for the lives and exemplars of holiness provided by these exceptional men and women.
So, if you are looking to broaden your understanding of the contributions of Africans and African Americans to the life of the Church, I definitely recommend Saints of Africa and Black Catholics on the Road to Sainthood. Both have earned a spot upon my bookshelf.