Book Review: The "Dear God" Series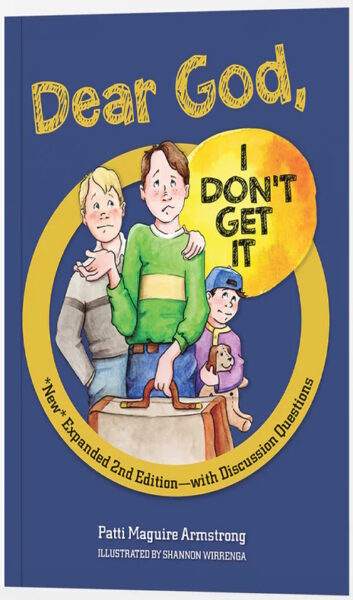 Today, I am happy to review the Dear God series by Patti Macguire Armstrong, published by Holy Heroes. There are two books in the series, Dear God: I Don't Get It (2013), and Dear God: You Can't Be Serious (2014). Written as chapter books for elementary-age kids (I'd place them as suitable for 1st-5th grade), the Dear God books follow the adventures of the Ajax family; book one centers on the oldest brother, Aaron, while book two focuses on the irrepressible middle child, Luke.
First, I'd like to discuss what both books have in common. The charming, homey illustrations of Shannon Wirrenga illustrate each book. Wirrenga has a very cartoony, pencil-sketch style that made me nostalgic for the wholesome kids' books I used to read in the 80s. I found it endearing. Both books contain discussion questions and vocabulary lists for each chapter to help better flesh out the concepts your kids will be reading. The text is large enough to be easy for a reading novice but not so large that it feels like a "little kid's book." Patti Armstrong identified her demographic well and organized the books accordingly.
Okay, enough with the formatting. Now for the fun stuff:

Book one follows the Ajax family as they relocate from Montana to North Dakota when Aaron's father has to take a new job. Millions of kids have had to work through this dilemma—circumstances beyond their control compel them to come to terms with a new, scary situation. Aaron naturally wonders where God is at in his tribulations. If God loves Him, why doesn't He seem to care that Aaron is forced to leave his friends, school, and familiar life behind? Aaron struggles to understand God's providence while accommodating himself to his new life in North Dakota. Book two also uses the theme of life-change as the main plot point: the Ajax family's decision to transition the middle son Luke into homeschooling.
One thing I appreciate about Armstrong's writing is how well she illustrates the providence of God working through circumstances. The power of faith is taught, but not in a saccharine way; Aaron and Luke are not immune from disappointment, and prayer doesn't make their problems go away. Rather, Armstrong depicts God using trials to bring about good and how secondary causes all work together in His big plan. It is a lesson in Providence. Aaron and Luke do not escape their difficulties because of God. Rather, God uses their difficulties to help them see important truths about Him and themselves. It's a solid way of understanding God's providence, wrapped up in language and stories accessible to elementary-age students.
I also want to commend Armstrong for her ability to put herself into the brain space of a twelve-year-old boy. The books are written from the perspective of the Ajax boys, and I was absolutely convinced I was reading the ruminations of a pre-pubescent boy each time. This sort of thing isn't always easy for an author to pull off. Patti Armstrong is a grown woman but writes excellently from the perspective of a young lad. As one author to another, I commend her for that!
I don't want to give anything away about how the stories unfold except to say that the Dear God books provide wholesome modeling for approaching those pervasive questions about finding God's will in our circumstances and learning how to trust when things don't go our way.
To get a copy of the Dear God books, you can visit the Holy Heroes website or check out Patti Macguire Armstrong's website.