50 Books for the Boys and Men in Your Life
I have the blessing of speaking to many homeschooling parents each and every day. One question that I am often asked is, "What books do you recommend for boys"?
Being a girl and all, what do I know about boy books? Well, I raised four boys and I'm married to one, so I asked their opinions. Besides, I'm a bit of a tomboy and love "boy books" as much as "girl books". Here is what we came up with together: a list of 50 books for the dad and boys in your Catholic homeschool (as well as for mom and the girls!). 
This list starts with the simple and moves to the complex. I begin with picture books for little boys and end with serious books for grown men so make sure to scroll all the way down. This is a list for littles, tweens, teens, and way beyond. Book titles contain affiliate links that will take you to reviews and ordering information at Amazon. Also, check BookFinder.com for the best price used or your public library.

Mike Mulligan and His Steam Shovel by Virginia Lee Burton. What little boy doesn't love backhoes and steam shovels? Since its publication in 1939, Mike Mulligan and His Steam Shovel has delighted generations of children, including my own children and grandchildren. Mike and his trusty steam shovel, Mary Anne, dig deep canals for boats, cut mountain passes for trains, and hollow out cellars for city skyscrapers.
Tom by Tomie dePaola. Tomie dePaola's beautifully illustrated Tom tells the heartwarming story about the author's relationship with his grandfather as a small boy. Moms love this book for the special relationship between grandfather and grandson. Boys love it for the chicken carcasses!
Where the Wild Things Are by Maurice Sendak. This iconic story has inspired a movie, an opera, and the imagination of many children over the years. I think most boys can relate to mischievous Max in his wolf suit sent to bed without supper, alone with his imagination.
Harold and the Purple Crayon by Crockett Johnson. This little boy, who also enjoys a little mischief, finds adventure through the magic of his purple crayon. We loved this little book so much, we bought them all.
The Big Book of Animal Stories by Thornton W. Burgess. Thornton W. Burgess's timeless stories have drawn generations of youngsters into the comforting world of the Green Forest, the Smiling Pool, and the Laughing Brook. Peter Cottontail, Reddy Fox, and the rest are still delighting us after all these years. If you're a Charlotte Mason homeschooler, you likely already know this book.
The Squire and the Scroll by Jennie Bishop. The Squire and the Scroll is, IMO, one of those must-have books for boys. It is a beautiful allegorical tale about a young squire who, facing down a dragon, does what none of the great knights could do. Little boys discover the value of guarding their hearts against things that are impure.
The Iron Man by Ted Hughes. A story of intergalactic adventure with the fate of the world hanging in the balance. Includes a fighting scene at the end against the big black dragon from space. What more does a boy need?
Little Robot by Ben Hatke. Ben Hatke's Little Robot is a unique book. The book is illustrations only; no words give free rein to your child's imagination so the story is a little different every time you open it up.
The Mouse and the Motorcycle by Beverly Cleary. Ralph, the resident mouse at the Mountain View Inn, discovers a world of adventure when a boy and his shiny toy motorcycle check into the inn. This was one of my son's favorite books to read on his own when he was a little guy.
The Tale of Despereaux by Kate DiCamillo. We absolutely loved this book. If you haven't read it, go right now to the library or bookstore and get it. After you've had a chance to read it you could even share it with your son. Bravery, chivalry, honesty, selflessness, and all kinds of virtues are extolled and yet not preachy — just a plain good story.
Detectives in Togas by Henry Winterfeld. A fun mystery involving young, adventurous lads in Ancient Rome who solve crimes. It's laugh-out-loud funny and well written to boot. Of course, we read it at the same time we were studying Ancient Rome in our homeschool.
Mrs. Frisby and the Rats of NIMH by Robert C. O'Brien. This book was the all-time favorite of my youngest son, my reluctant reader, in grade school. When we read it the first time, he'd wake up in the morning and beg for Mrs. Frisby and the Rats of NIMH. As soon as lunch was over, "Mom! Read Mrs. Frisby and the Rats of NIMH!" As soon as dinner was over, "Mom! Read!" At bedtime, again, "Mom! Rats! Now! Please!" You can read my review here.
Galen and the Gateway to Medicine by Jeanne Benedict. In this fun biography of Galen, the most eminent physician of ancient Rome, Jeanne Bendick brings Galen's Roman world alive. Not only was Galen the chief physician to the gladiators (and what little boy isn't fascinated by gladiators) but he is also the first to show that arteries carry blood, not air.
Dangerous Book for Boys by Conn Iggulden and Hal Iggulden. Brothers Conn and Hal created a wonderful collection of things that make being young or young-at-heart fun. You'll find all kinds of information from building go-carts and electromagnets to identifying insects and spiders to creating a multitude of paper airplanes. Get off the computer and skip stones, tie knots, go fishing, find true north, build a go-cart, collect spiders, and more. This is as much for Dads as it is for sons!
The Ghost in the Tokaido Inn (The Samurai Mysteries) by Dorothy Hoobler. A Sherlock Holmes-style mystery set in 18th century Japan with samurais and the whole bit. This is a perfect tie-in to your homeschool studies as well as a fun read.
Backyard Ballistics: Build Potato Cannons, Paper Match Rockets, Cincinnati Fire Kites, Tennis Ball Mortars, and More Dynamite Devices by William Gurstelle. Thanks to this book, many a weekend has been spent by my boys & friends shooting potato canons off of our deck into the pond. You can get more fun than that! This DIY handbook features all step-by-step instructions for multiple projects. Yes, you too can build awesome ballistic devices in your garage using simple household or hardware store materials.
Hardy Boys Series by Franklin Dixon. Not exactly great literature, but they are great fun. Frank & Joe Hardy embody the American ideal of boyhood and the desire for good to triumph over evil. Make sure you get the classic versions (easy to find used) and not the modern retellings.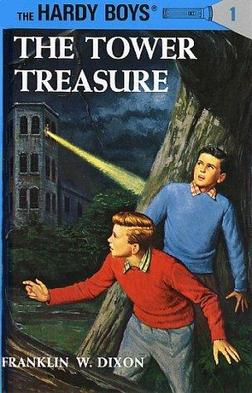 American Chillers Series by Jonathan Rand. Not what I would personally choose (fast food version of books) but my boys say they have to go on the list. American Chillers are a series of horror novels drawing on regional legends throughout the US. Easy to read, entertaining, and totally schlocky.
The Art of the Catapult: Build Greek Ballistae, Roman Onagers, English Trebuchets, and More Ancient Artillery by William Gurstelle. As one of those eclectic homeschoolers, I managed to turn this book into a history-slash-science textbook! Learn to build authentic model catapults that really work, including an early Greek ballista, a Roman onager, and the English trebuchet.
Warriors: Into the Wild by Erin Hunter. This is another series that I am not particularly fond of but my boys absolutely insist belong on this list. Yes, they're dime-store paperbacks but they are enjoyable stories. It was surprising to me that they actually do offer quite a bit for you to baptize and teach moral lessons. You can read my full review here.
Alvin's Secret Code by Clifford Hicks and Bill Sokol. A seventh-grade boy named Alvin attempts to decode a cryptic message and solve a 100-year old mystery. I found my boys having fun in creating their own secret codes after reading this one.
The Number Devil by Hans Ensenberger. This is a book that actually makes mathematics a thrilling experience — perfect for the child who fights you every time you pull out the Saxon textbook. In a multitude of dreams, Robert, who hates math, meets a "Number Devil", who leads him into discovering the amazing world of mathematics, from infinite numbers to prime numbers to Fibonacci numbers, and much much more! Even though I would prefer it be the Number Angel, this was a favorite of one of my sons, who read it over and over in his tween years.
The Great and Terrible Quest by Margaret Lovett. This is a fun and enjoyable story with strong characters who are good examples for our own lives. The protagonist, a ten-year-old orphaned boy left in the care of his cruel and despicable grandfather, has a heart of gold. In spite of his personal difficulties, the boy is generous and kind to anyone in need, even though it means serious hardship for him. This is the kind of fantasy story that helps give us the strength to do the right thing, right here in the real world. You can read my full review here.
Phantom Tollbooth by Norton Juster. Here's another book for your math-phobic children. Originally published in 1961, this book has been loved for generations. Take a journey with Milo to the Lands Beyond in this beloved classic. We love this book but found it was best to read silently rather than aloud due to all of the play-on-words.
Redwall by Brian Jacques. The mice of Redwall are monks and live in an abbey. Even so, this is not a Christian-themed book. There is no mention of God. Yet, the books clearly portray revenge and holding a grudge as wrong. There are many examples of self-sacrifice for the greater good. There are even incidents of redemption, where an evil character repents and makes the choice to love others and live in peace. Plus, it's just a good fun adventure for boys. If you like the first book, continue with the rest of the series.
Five Children and It by E. Nesbit. Four children and their baby brother go digging in the gravel pit and happen upon a Psammead, an ancient sand-fairy, who grants the children one wish a day. Trouble ensues as the sand fairy takes the children's wishes a bit too literally. Can you imagine?! Follow up with E Nesbit's other titles!
The Terrorist by Caroline B. Cooney. Laura and Billy Williams are two ordinary American expat kids living with their parents in England. Then, in an instant, everything changes when Billy is handed a mysterious package in a London Underground station.
The Broken Blade by William Durbin. Join 13-year-old Pierre La Page who has to leave Montreal to paddle 2,400 miles for the North West Company to help his injured father. Set in 1800's Canada and full of adventure! We read this while vacationing in Canada and loved it.
The Lion, Witch and the Wardrobe by C.S. Lewis. And when you're done, read the rest of the Narnia series. No matter your age, young or old, Narnia never fails to delight. I read the Narnia series aloud seven times, as each of my children turned six and loved it more each time.
The Bronze Bow by Elizabeth George Speare.  This story, set in Galilee during Jesus' lifetime, is about a young Jewish rebel who is won over to the gentle teachings of Christ. This is one of the many books we read for "school" and enjoyed just because.
Otto of the Silver Hand by Howard Pyle. A rich and engrossing thread of Romance runs through this tale of the motherless son of a valiant robber baron of Medieval Germany. Really, anything written by Howard Pyle could go on this list.
The Hobbit by J.R.R. Tolkien. When my oldest son was just a little guy, he listened to the audio version of The Hobbit over and over again. As a 32-year-old man, he still has a love for Middle Earth and now reads it to his own children. What is there not to love about fantasy, hobbits, elves, dragons, and adventure?! Of course, once you've tackled The Hobbit, next on the list is the Lord of the Rings trilogy.
Will Wilder: The Relic of Perilous Falls by Raymond Arroyo (EWTN news anchor). Though recommended for 8- to 12-year-olds, I would either read aloud or wait for the teen years. A sensitive child may have difficulties with some of the dark and gory themes. With that said, this was a fun ride of a read.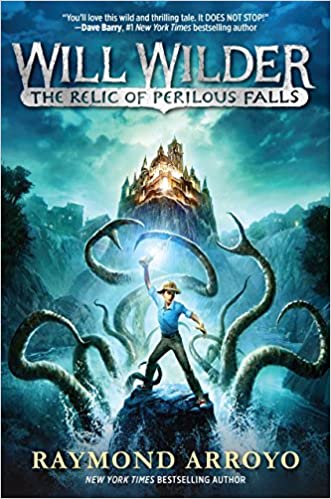 Fahrenheit 451 by Ray Bradbury. A dystopian story set in a world where books are outlawed and reading is forbidden as harmful to society. Way better than 1984 as there is hope at the end.
The Sword of Clontarf by Charles Brady. A classic historical fiction novel set in medieval Ireland with copious amounts of Vikings. Make sure to check out other titles from Hillside Education while you're at it.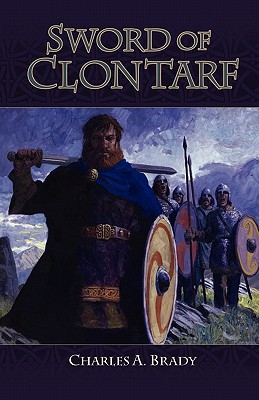 The Hidden Treasure of Glaston by Eleanore M. Jewett. Amidst great mystery, young Hugh is left in the care of Glastonbury Abbey by his father who must flee England. Hugh finds that life at the abbey is surprisingly full and he and his companions work to untangle an ancient mystery.
Tale of Manaeth by Phillip Campbell. When the eldest daughter of a murdered king is unexpectedly thrust into power, she becomes responsible for leading her people through a brutal foreign invasion. Written in the high archaic style of the Iliad and Silmarillion, Phillip Campbell's Tale of Manaeth is a fantasy-war epic for today. You can read my full review here.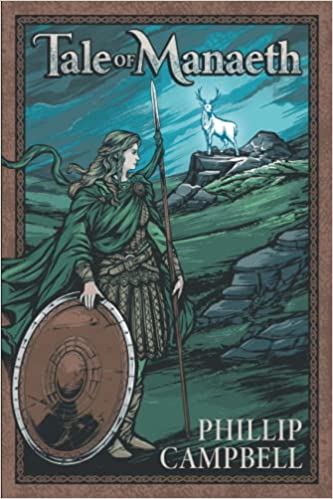 Belisarius: The First Shall Be Last by Paolo A. Belzoni. First, a warning. There are graphic war scenes in Belisarius and it does touch on the fact that some characters lack character. That is to say, some of the men are womanizers and some of the women have a past. However, a book written with only perfect characters is worthless. How do we learn from their mistakes if they don't make them? How do we learn that we too can be heroes if the book's hero is too far beyond our grasp? If you like this book, follow up with the sequel Belisarius, Book II: Glory of the Romans. You can read my full review here.
Something Wicked This Way Comes by Ray Bradbury. An incredibly well-written modern horror novel you won't forget. The title comes from Shakespeare, "By the pricking of my thumbs, something wicked this way comes." I'm usually not a fan of horror but my teens talked me into reading this one, and I'm a fan now.
The Silver Chalice by Thomas Costain. Historical fiction about a  silversmith commissioned by the apostle Luke to fashion Jesus' chalice used at the Last Supper. THE best-selling novel of 1953, It was made into a film starring Paul Newman.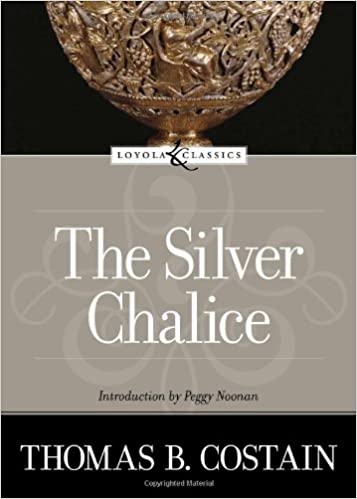 Ender's Game by Orson Scott Card. A fantasy novel that explores some deep moral questions when the government trains children to battle a hostile alien race. As one of the boys in our high school book club once said, "This may be fiction and there may be no such thing as giant alien bugs attacking us, but I was inspired by the bravery and smarts of the heroes."
Space Trilogy by C.S. Lewis. When the teens in our high school book club asked to read this trilogy, I thought they would find it antiquated. Turned out, they loved it!! Sometimes described as a grown-up, speculative-fiction version of Narnia, The Space Trilogy explores the condition of man, theology, and philosophy.
Sherlock Holmes by Arthur Conan Doyle. Though endlessly reinterpreted, reinvented, and imitated, the original Sherlock Holmes stories have never been surpassed. A 17-year-old boy in our teen book club shared that he read this aloud to his younger siblings — what a great young man!
The Man Who Was Thursday by G. K. Chesterton. A thrilling novel of deception, subterfuge, double-crossing, and secret identities written by one of the greatest authors of the 20th century. This is one of those books you'll either HATE or absolutely LOVE. There doesn't seem to be any in-between. But either way, the ending is sure to get you.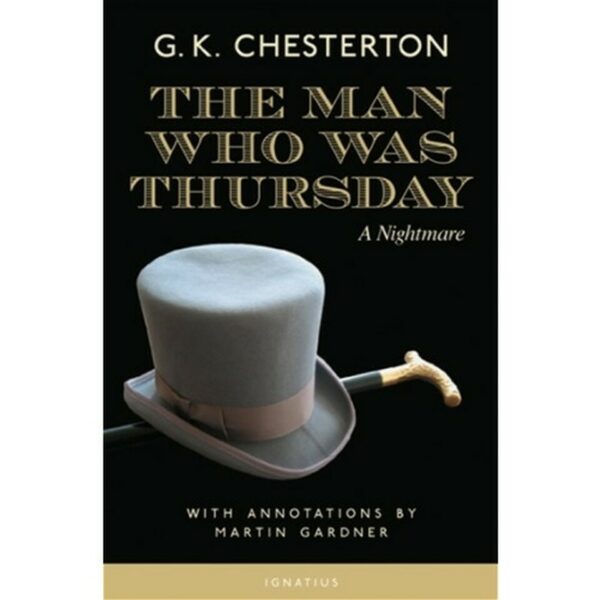 Wooster and Jeeves by P.G. Wodehouse. The Wooster and Jeeves books are an absolute hoot! Go on an adventure with the foolish, vain Bertie Wooster and his well-ground, brilliant valet, Jeeves. These books have been perennially popular since they first appeared in 1915, as well as in my house. And, check out the BBC comedy series featuring Hugh Laurie and Steven Fry — one of the few times when TV got the book right!
Manalive by G. K. Chesterton. Perhaps the most light-hearted of all Chesterton's "serious" works, Manalive pits a group of disillusioned young people against Mr. Innocent Smith, a bubbly, high-spirited gentleman who literally falls into their midst. Make sure to check out the Society of G. K. Chesterton while you're at it!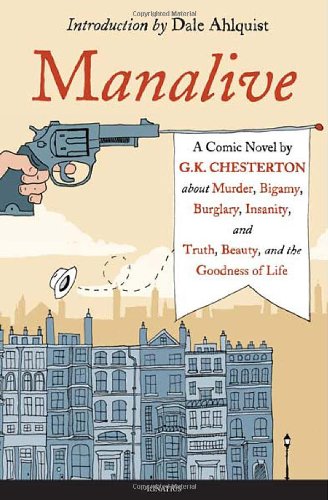 Dracula by Bram Stoker. The ultimate gothic horror novel, which is profoundly Catholic. Don't miss reading it… trust me! Make sure to pick up the Ignatius Critical Edition if you're going to buy it new. Though it is great on audio too!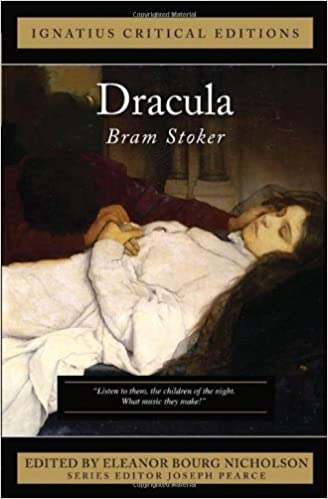 The Spear by Louis deWohl. A beautifully written historical fiction about Longinus, the Roman soldier believed to have pierced the side of Jesus. One of the teen boys in our local homeschool book club asked if this could be our selection one month and it was loved by all!
Pride and Prejudice by Jane Austen. As Professor Joseph Pearce has been known to say, "Pride and Prejudice is a girly book…that should be read by every real man." Make sure to get the Ignatius Critical Edition if you can!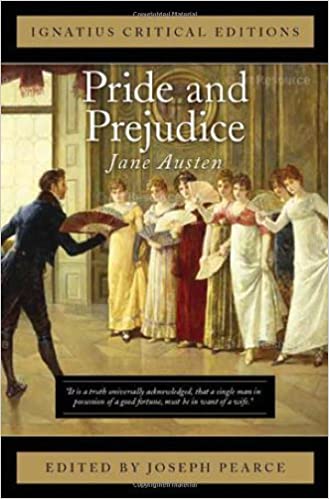 Love in the Ruins by Percy Walker. A Catholic author writes a sci-fi, or maybe it's a romance, or maybe apocalyptic… anyway, a novel that confronts both the value of life and its susceptibility to chance and ruin.
The Prestige by Christopher Priest. A Victorian mystery novel that will unsettle you, shock you, and take you on a twisted journey. Not for the faint of heart.
Till We Have Faces by C.S. Lewis. Lewis's last novel is the retelling of the myth of Cupid and Psyche told through the gaze of Psyche's sister, Orual. This is a favorite of my oldest son.
Unbroken: A World War II Story of Survival, Resilience, and Redemption by Laura Hillenbrand. Unbroken is a tough read. A really, really tough read due to the painstakingly described trials and horrors endured by Louis Zamperini in a World War II Japanese prison camp. Yet, it is also an unforgettable story of faith, hope, resilience, and forgiveness.
Okay were you keeping count? I know, I know, it was actually fifty-three books, not fifty, but it's so hard to cut yourself off when talking about great reading! There's so much more that could be added! What about you? What are your favorite books for the boys and men in your life? Visit us and share your faves in the Homeschool Connections Community.